Coronavirus Update (COVID-19)
METROWEST CAR SERVICE HEALTH AND SAFETY PROTOCOLS
Pre-shift Screening
All chauffeurs will be screened prior to their first ride.
Do you have shortness of breath?
Do you have a cough?
Are you wearing a protective mask?
Are you wearing gloves?
Has this vehicle been sanitized with disinfectant between jobs?
Is there a protective guard/in-vehicle divider installed?
If you are feeling sick or think you are getting sick, please stay home.
Here are the following recommended guidelines that have been approved methods of the CDC to maintain safe, healthy environments to protect passengers and drivers:
Vehicles go through a cleaning cycle with disinfectant 30 minutes after completing each trip. All common areas and high-touch areas like armrests, door handles, lavatories, seatback screens, and seat belts are wiped down and disinfected between trips by drivers and chauffeurs while wearing PPE and gloves.
When possible, it is recommended to open the vehicle windows to allow fresh air circulation.
All drivers will be screened daily based on the CDC and Department of Health recommendations.
All drivers shall use PPE as required by Local, State and CDC recommendations
Glove wearing is promoted. Gloves are mandatory while handling luggage. Using hand sanitizer or washing hands after removing gloves is recommended.
Safe passenger signs or placards depicting "this vehicle is deep cleaned daily in accordance with the CDC Recommendations" should be positioned in vehicles reflecting driver's attention to safety.
Hand sanitizer or wipes will be available to all drivers and guests.
All passengers on board are required to wear face coverings.
It is highly advisable that drivers add similar messaging to the "Terms and Conditions" portion of all email confirmations.
Proper vehicle guard and sanitization
All vehicles should have a partition separation between the chauffeur and the passenger
All vehicles should be sanitized in between rides with a disinfectant that meets CDC guidelines. This includes seat belts, door handles inside and outside, window buttons, air conditioning vents, climate control knobs, seats, and the partition.
Supplies all chauffeurs should have in the vehicles
Disposable gloves, they are one-time use, so please make sure you have enough pairs of gloves to get you through the day. Remember after you clean an area please remove the gloves and put on a fresh pair before touching a second surface.
Face Masks Cloth mask that is washable is required as per the CDC.
Paper towels
Thermometer – scan or reusable forehead thermometer
Sanitizer to clean the interior of the vehicle
All items for passenger consumption should be removed from the vehicle. (Magazines, Newspaper, Water, Candy, Tissues, etc.)
Luggage
Do not touch the passenger's belongings without their prior approval.  You should open and close the trunk for them if they are handling their own luggage.
These health and safety protocols are mandatory and failure to follow and implement will result in no rides.
VEHICLE CONFIGURATIONS FOR SOCIAL DISTANCING
Passenger placement in the vehicle
When possible in a sedan or vehicle that does not have the 3rd row, have the passenger seat behind the passenger seat.  In vehicles that have the 3rd row, you can offer the passenger the option of sitting there.
Luxury Sedan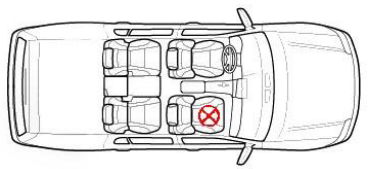 Luxury SUV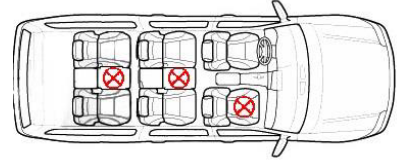 14 Passenger Van

31 Passenger Minibus

56 Passenger Motor Coach